First, Pat is very pleasant and easy to talk to. We appreciated her knowledge and experience, and we were able to speak to her honestly and bluntly. She was a great hand-holder through what can be a stressful process. (We lived in our home 20 years before putting it up for sale upon retirement and leaving the area.)

1. Preparation of home: Pat was willing to discuss six month prior to sale. She walked our home and suggested minor changes to make it ready for market.

2. Vendor selection: She offered vendors for home inspection, termite inspection and house cleaning. They were thorough, professional and courteous.

3. Follow-Up: Pat was spot on and organized with follow up on time frames/lines and expectations. She was very helpful to inexperienced buyer's agent to keep the escrow moving smoothly.

4. Marketing: She is a "team" player, allowing us to modify sales price and house description. She also had to adjust our listing date when we need just "one more week" to get it ready for sale.

5. Knowledge: Pat's knowledge of local real estate market was invaluable before, during negotiations and through closing of escrow. She knew when to be firm and when to be flexible.

6. Last, but not least: Pat escorted us during every step of the selling of our home and listened to us with our concerns with the purchase of our new home in a different market. She patiently described what we were signing and how it affected us from accepting an offer through close of escrow. She also pointed out important issues we would need to know as "buyers" when we moved.

She kept us informed through email and phone calls, and meet with us whenever we needed extra counseling. She listened to our personal goals and needs and was able to negotiate a desirable outcome to make our transition a smooth one.

Pat Chadwell is an excellent real estate broker and a lovely person. We appreciate her expertise and friendship.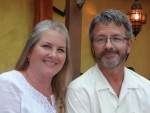 Jim and Gaylene Hinkle
Home Sellers
Aug 3, 2017
---