Last year, my finance and I (now husband) made the decision to purchase our first home. Even though we were in the middle of planning our wedding, it made more financial sense to invest in property than waste money on rent.

We reached out to my close friend Melissa Bliss to be our Realtor, as I had full confidence in her to find us a great house. My finance was also very confident in her, as she had previously worked with one of his friends in finding them a house a few years ago.

Melissa explained that inventory was low, as many people were still under water with their homes, and in our price range we would be up against investors with cash offers, but with the right offer and a little patience we would be able to find a home that fit our must haves. In addition, interest rates and housing prices were still low, so it was a great time to buy a home.

Working with Melissa during an already busy time in our lives was a wonderful experience. She took the time to answer all of our questions and was very knowledgeable regarding the rules and regulations of conventional vs. FHA loan offers, purchasing from a bank vs. a home owner, and home inspections and contingencies. In addition, she was great about worked directly with our loan officer and Title Company to make sure she was properly advising us when making an offer and closing the deal.

With Melissa's great direction and persistence we had an offer accepted within 45 days of looking at houses and we closed 30 days later. We had looked at many houses in Contra Costa County and nine offers were rejected before we found our home. Melissa's great personality and strong reputation helped to push our final offer through.

We have recommended Melissa to all of our friends and family and even our loan officer recommends her to his clients. She is such a pleasure to work with and she takes some of the pain out of buying a home.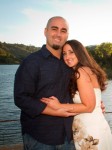 Natasha Woods & Brian Ward-Williams
Previous Home Buyers & Newlyweds
Apr 21, 2014
---