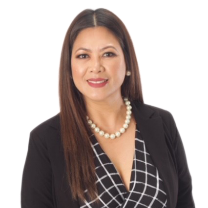 Editha Dionisio
Escrow Officer
Fidelity National Title Burlingame
Editha has over 20 years of escrow experience and is fluent in Tagalog. She is known for her sweet and friendly demeanor and takes great pride in bringing superb customer service and professionalism to her clientele. Editha maintains a solution-oriented approach and has become a reliable and consistent resource for many in the real estate industry. Her reputation has earned her a loyal following through out her career. Editha specializes in residential, refinance and short-sale transactions.
On the personal front, Editha loves to travel and see the sights of the land.
As a company, we pride ourselves in providing the very best in service to our valued clients.  It is of upmost important that we build a team at Fidelity National Title with a strong work ethic, enthusiasm to grow and to contribute to our clients' success. Editha is a wonderful representative of the Fidelity name and work ethic that we all take such pride in. Editha is looking forward to serving you on your next transaction!