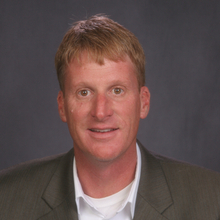 Christopher J. Connely
Business Development
Fidelity National Title Colorado
Chris works closely with real estate agents and homebuyers to ensure they have the right tools in place to serve their needs and are aware of the most effective farming and marketing techniques. A master at building connections and turning prospects into long term clients, Chris believes in leading with action and providing the best customer service possible. He credits his success to taking the time to see as many people he can every day, diligently making sure every transaction runs smoothly, and always being available when his clients need him.

Witty, energetic, and passionate, Chris was born to work in relationship management. He found his way to title after working as a manager for a Credit Union and felt he needed more of challenge. He worked for Security Title before joining the Fidelity family. He now has over 16 years of experience in the industry.

A graduate of Belleville Township High School and Eastern Illinois University, Chris holds a BA in Economics. Chris is active in the community and participates in Habitat for Humanity, Broomfield Thunder Baseball, and NYFA Football.

Originally from Belleville Illinois, Chris moved to Colorado in 1995, which he says was the best decision of his life. He has 2 children- John, 14, and Emma, 19, whom he considers the coolest young people in the world. A self-described sports junkie, Chris' passion is coaching football and baseball. When is not coaching or working, Chris enjoys skiing, hiking, biking, camping, golfing, and playing poker.