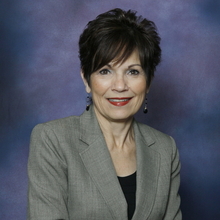 Mary Lou Paulk
Senior Vice President/ Consultant
Fidelity National Title Maricopa County
My current role with Fidelity National Title Agency is a Senior Vice President, in a consultant and an advisory position.

I proudly served as the President and County Manager of Fidelity National Title Agency –
Maricopa County, Arizona from 2007-January 2022 and oversaw the management of personnel, production, financial results and market penetration for escrow and title-related services for this operation.

I began my escrow career with USLIFE Title in 1977 after spending three years with a secondary finance group. During my 23 years of employment with ATI Title Agency of Arizona (formerly known as USLIFE Title, Title USA and United Title Agency of Arizona), my areas of responsibility included Assistant Vice President/Branch Manager, Vice President/Area Manager and Escrow Operations Manager of the Phoenix division, and as the National ATI Title Company Training Director.

I joined the Fidelity National Title Team in May of 2000 as Sr. Vice President of Sales
and Operations and in 2005, was promoted to the position of President and County Manager of
Fidelity National Title in San Luis Obispo, California. Returning to Phoenix in 2006, I assumed
my current position. I am a Certified Escrow Officer, a Certified Instructor for AAR and the Board of Realtors, and the Past President of the Arizona State Escrow Association (ASEA).

I reside in Phoenix and am passionate, active member of my local community. Also a proud grandmother of seven, I cherish sharing my time with family, enjoying great music and hobbies of
floral design, interior decorating, hiking, and traveling.