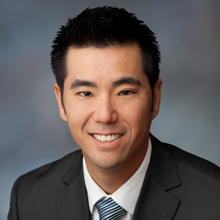 Brad Ono
Sales Executive
Fidelity National Title Portland
After working for over 10 years in title and escrow services, Bradley
Ono has been with Fidelity National Title since moving to Oregon
from Oahu, Hawaii in 2011. "All for the Client" defines his work ethic
in keeping a clear focus on objectives and always being prepared for
the unexpected.
His industry service portfolio includes committee work with both the
Mortgage Bankers Association of Hawaii and the Hawaii Association of
Mortgage Brokers. His not-for-profit volunteer commitments included
the Hawaii Nature Center and Habitat for Humanity.
While in Hawaii, he enjoyed running, golf, and surfing. In the Pacific
Northwest, he and his wife along with their two children continue to
run trails, practice golf, but have swapped out their sandals for rain
boots while exploring nature.