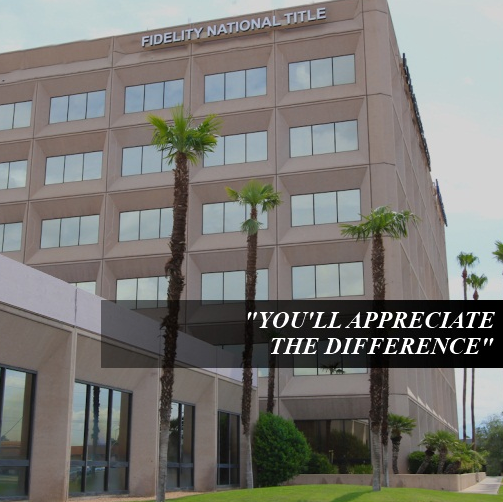 Fidelity National Title Tucson
Through its nationwide network of direct operations and agents, Fidelity National Title provides title insurance, underwriting, escrow and closing services to residential, commercial and industrial clients, lenders, developers, attorneys, real estate professionals and consumers.

With a proud history of more than 150 years, Fidelity National Title Agency is one of the nation's premier real estate service companies.

As a member of Fidelity National Financial's family of companies, Fidelity National Title Agency is part of one of the largest title and escrow companies in the United States. We have the most substantial claims reserve in the industry. Let Fidelity show you why customers rely on us for the experience, service and financial strength they need for real estate transactions.

Fidelity National Title Agency is a national leader in title insurance and real estate services. At Fidelity, we offer a complete line of title and escrow services for both residential and commercial transactions as well as a variety of other related services such as Account Servicing, Builder Development, Construction Disbursements, Foreclosure and Multi-County Title.

At Fidelity National Title Agency we are committed to providing you exceptional service. Let Fidelity offer you the price, service, and reliability you expect from a leader in the title insurance industry. Though our nationwide network of offices you're sure to find a Fidelity National Title Agency branch nearby for all your real estate transactions.