Nikolas absolutely knows his business, not just buying and selling homes, but he ..understands the difference between a house and a home. He can recommend value and improvements, as he knows this market.
His contacts and vendor relationships are invaluable. I have called on him several times when I needed helped (he always answers his clients calls) and every one of his recommendations, we have been extremely happy with their professionalism, assistances on decisions and work...
We highly recommend Nikolas!!!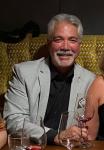 Mark Silva
Client Delivery Executive
Dec 20, 2020
---