I cannot recommend Melia enough! She was referred to us from a friend who bought a house a few years ago, and I'm so glad they did! We were first time home buyers, so we had no idea what we were doing. Melia literally guided us through the entire process. Starting with connecting us with Branden from Home Town Lenders who was able to get us pre-approved and put in an offer in the matter of hours.

This was just the beginning of the reliable companies she connected us with. She set up our home and pest inspection for us. And she had a recommendation for everything I asked for: pool guys, electricians, septic companies, home warranty company, etc.

She was always very responsive to email or text, regardless of the time (I swear if she's awake, she's working!). She is very thorough in everything she does from explaining the process, documents we were signing, timeline, or double checking documents for accuracy. There wasn't a single thing she let fall through the cracks! The entire process was seamless and easy with her assistance. Her knowledge, expertise and integrity were evident in everything she did. I will definitely refer her in the future, and if I ever need a realtor again, you know I'll be calling her!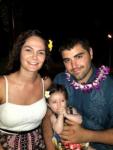 Jamie Barnreiter
Bartender
Sep 4, 2020
---