I typically don't write recommendations because I seldom have a reason to. Over the last 25 years I have purchased and sold 13 homes. in each one of those transactions I was left with the feeling that my realtor was representing themselves first and their needs and then mine. With this real estate transaction I work to Karen Bailey To purchase my new home.
Karens professionalism, extensive knowledge and prompt attention as well as a sense of urgency of real estate laws and
her eye for detail on what I considered to be a very challenging purchase of this home...left me more than once beyond impressed. The above comments are just a very small amount of my professional regard of Karen.
it is my pleasure to recommend Karen Bailey anybody's real estate transactions.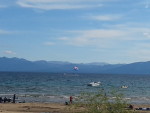 Brad Hewitt
home buyer
Aug 5, 2015
---