Words cannot describe the feeling of being in our own home. If it wasnt for this amazing team we would of not been abe to accomplish this dream.
We went from an apartment to living in a tent to owning our own home. Life has its ups and downs but from here on out the sky is the limit. All it took was finding the right team and set of people to do this.
So thank you everyone that allowed us to pursue the american dream. So if your reading this. Let them help you like they helped us. I thank everyone from nexthome realty. Especially my realtor stephen ohlerich. Our lender brian idleman. These guys are great.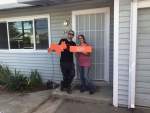 Steve Niles
Construction
May 18, 2019
---