Patti is our Dream Maker.. After looking at a few listings and not finding what we were looking for, I told Patti about my dad's and mine dream property including the location. She gave that smile of hers and said she new the exact listing. And it turned out to be our exact dream property. We are now the proud owners of our dreams and a beautiful piece of property.

Patti held our hands through out the entire process which was lengthy as this was a construction loan. Patti has a large arsenal of contacts and knowledge and knows how to make things happen. She stays on top of every little detail and made our dream a reality. I would highly recommend Patti Akins for anyone searching for their dream home. She can make dreams happen!!

Thank you Patti Akins. You are an angle and much appreciated.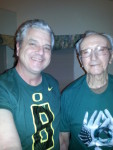 William and Terrance Flohr
Father and Son
Apr 22, 2016
---