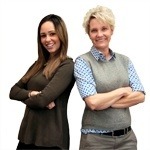 Laura and Danielle Sell Homes
Realtors

Berkeley Albany Homes / WREG

01401840 / 01910218


Laura and Danielle Sell Homes

Growing up in San Francisco and living all over the bay area (5 different counties) I know and love the area - especially Berkeley and Albany.

Homes are my hobby, and helping people out is what I do! I have a background in counseling and contract negotiation, both of these skill sets have proven invaluable, whether it be on the buyer or seller side! I love what I do.