Kari did an amazing job helping us get our Duplexes.
She walked us threw everything step by step and was so patient and helpful no matter what. She was honest and told us what was the best or smartest decision even if it wasn't "what we wanted to here" which is very nice. I like people who are straight forward and don't try to sugar coat everything.
She was on call all the time. And even though we've already closed is still helping us to get the little things straightened out.
I would and will be recommending her to our friends, family, and anyone who is looking for a home to purchase.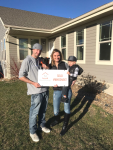 Jennifer DuPerault
Home buyer/ Client
Dec 1, 2016
---