Kari was our realtor and we both liked her instantly, upon meeting her. Kari was very upfront, honest and so very helpful, through out our endeavor, to find just the right place for us. She went above and beyond as a realtor, and became our friend immediately, almost like family, which meant so much to both of us. Kari is very trustworthy, dependable, and did us an amazing job, and seeing to our needs, while searching for just the "right" home for us. We can't thank her enough for a her patience, time, efficiency and answering all of our questions. We will/would recommend her to anyone that is looking for the perfect home. Kari is just the best! We love our new home.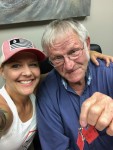 Eugene Severson/Kathy Wilson
I'm a retired rancher/farmer and Kathy is my best friend.
Jul 23, 2018
---