We met Tammy on our first day out of looking at homes during open houses. She was at the first one we went to. While the house was not the one for us, we took her card (since we did not yet have a realtor) and interviewed her at our house a week or so later. She came prepared and then some! She had put together a hard bound book of our house and other comparable homes in the area. She went over everything that she would do to help sell the house - open houses, mailers, knocking on doors, broker open house, etc. She even talked to the city officials about the flooding resolutions that the city was undertaking so she could speak to potential buyers about that. I also think the photographer she used plus the 360 degree video were very helpful in showing off the interior of the home. We had not purchased a home in 27 years, and she was extremely attentive and answered all of our questions - no matter how minor they might have seemed. With her help, we ended up with a contract on the home in just about 6 weeks.

We had not really done a serious search for a new home so we used Tammy for that as well. We told her what we were looking for and where and she would send us home to look at. We settled on a list of about 12 to look at and she arrived that day with (another!) hard bound book of all the houses, their information, and a note/rating page for each one. It made it very easy to remember which house had which feature and was a very handy tool. From those initial houses we narrowed it down to 2 and made an offer on one of them and the rest is history.

We did have a hic up during the closing due to a lender error. She held our hands through the whole process, even calling the lending officer's manager to help resolve the issue. She was relentless until the issue was resolved.

I would highly recommend Tammy (and I already have) to anyone selling their home. She was prepared, responsive (if she did not know the answer, she found someone who did), consultative and very thorough. As we got closer to the closing date, she checked and doubled checked to make things ran as smoothly as they could. A true professional!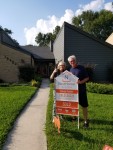 Tammie Jones
Homeowner
Jul 1, 2017
---