From the very first day that we met with Debbie and explain what we were interested in purchasing. We received and still receiving houses in our price range. Debbie has done such a fabulous job, that we are looking into purchasing our second home from Debbie.
Debbie set up times and dates on house for us to visit on our time schedule. Once, we had located the property, Debbie was there with us during the entire process, from beginning to the end. There was not a question, that we may have had that we did not receive an answer in a timely amount of time.
We are very please with Debbie and our beach home. Debbie contact us at least monthly to see if she can assist with anything. Debbie is truly an outstanding professional in her every day duties at her profession.
I thanked you then and I thank you know for assisting us with all the paperwork and financial assistance.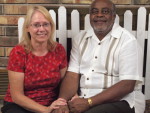 Henry and Janice Gibson
Satisfied Customer
Jun 7, 2017
---