I started my journey to obtain a home in July of 2016. Amanda, not only ensured I had the right home, at the right price, and the right location she went above and beyond when the time arrived to deal with the Construction Crew, Builders, and Title Company.

I have come to know that not every Realtor will fight for you! Let's be honest, some Realtors only care about commission! However, Amanda is honest, hard working, reliable, friendly, down to earth, respectable, and most of all AWESOME at what she does!!!!

If you chose another Realtor, I am so so sorry that you did! Mrs. Greehey is one of the best Realtors in the DFW area. So chose Greehey and live Happy!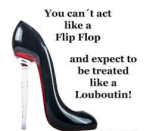 Tanna D. Hicks
Licensing Paralegal
Oct 13, 2017
---