Scott never said no to any of my requests, and believe it
were a lot ... After the magic pictures made by his photographer,
I never believe will work, we have a solid offer , more then the
asking price, I am glad I was wrong , and I let Scott to do what he do
best , help people to buy or sale . Everything was done professional ,
fast and keep me informed all the time . I will recommend Scott to
all my friends, and and for all of you who read this recommendation...
Thank you Scott , and all the best ...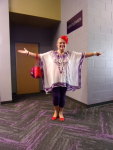 Mihaela Buie
Red Hatter Queen,
Jul 3, 2020
---