Dear Future home Buyers and Sellers,
It is my families immense pleasure to recommend Tracy Thayer as a real estate agent for any individual or families searching for their forever home. Upon meeting Tracy, my wife and I were absolutely impressed with her ability to communicate with us, and also help us understand the home buying process. Being first time home buyers, my wife and I had many questions and concerns with the process of purchasing a home. These concerns were quickly put to rest when meeting with Tracy, making us confident and informed.

During our house search we were able to identify our family's needs in a home and our most desired locations to purchase with the help of Tracy. She was very quick to respond to our request, and did an outstanding job finding multiple homes that fit our wants and needs. Tracy was very easy to communicate with at anytime of day, and able to meet with us at anytime to fit our very chaotic schedule. Tracy made my family feel like we were her top priority.

With the effort of Tracy, we were able to find the home of our dreams in a very short time. During the purchasing of our dream home we were in constant communication with Tracy. With Tracy's by our side my wife and I were able to confidently negotiate with the sellers, and save thousands of dollars on our future home.

I can not thank Tracy enough for her hard work and dedication, it truly was like working with family. My wife and I highly recommend Tracy Thayer to anyone looking to buy or sell a home. She is someone who truly cares about her customers and takes the time to care for their needs has buyer.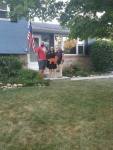 Blake Clowes
First Time Home Buyer
Jul 26, 2018
---