We are very honored to recommend Heidi as she is the best realtor we have ever had the pleasure of working with. Honest, diligent and always willing to go down a different path in search of a home.
Heidi made us feel like we were the only people she had as clients, and always having the time to be prompt.
Sold our home above asking with some crazy contingencies on the day it listed after helping us purchase our new home, guiding us through the may pitfalls seamlessly. Your the best!
Muy bien. Thanks for caring.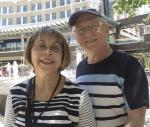 Bob & Iris Dunlop
Pres & VP
Mar 7, 2021
---