We listed, sold, and purchased our new home in less than 24 hours. Kim did and excellent job of getting us the paperwork right away. The electronic paperwork was an amazing feature that Next Home Legendary provided. Saved us a ton of time which allowed the sale to proceed without delay. If you need a realtor to "stage" your house for sale Kim is one of the best. She had our old house looking fantastic. Thanks again to Kim and Next Home Legendary.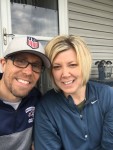 Derrick and Nicole Fehr
Sales Representative/Child and Family Educator.
Jun 12, 2019
---