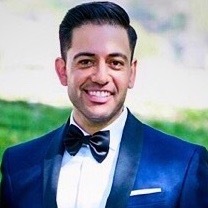 Omid Yousofi
Principal Partner & Realtor
Titan Pacific Group - Real Estate Sales & Investments
CA Lic.# 01702974
Omid has considerable experience in all things real estate-related and he brings a proven track-record of success representing clients throughout Southern California, with a particular focus on Orange County, San Diego, and Los Angeles, where he represents buyers and sellers of single-family homes and condos, as well as both new and experienced real estate investors for all types of investment properties ranging from multi-family residential to commercial office buildings, industrial warehouse properties, and raw land with development potential.

Omid's ability to guide his clients toward success throughout such a wide-array of real estate property types stems from his extensive and diverse background and experience, which really does set him apart from other real estate professionals.

He became a licensed Realtor in 2005, but as the son of two veteran SoCal Realtor parents, he grew up immersed in all things real estate-related, so his real estate education effectively began well before then. After he earned his Bachelor of Sciences degree in civil engineering with an emphasis in construction management from the University of Southern California, he went on to earn a Juris Doctorate in Law from the Thomas Jefferson School of Law while simultaneously working as a Realtor.

As a seasoned Realtor and the Principal Partner of the Titan Pacific Group - Real Estate Sales & Investments, Omid is a firm believer in doing what you love, which for him is real estate because he can apply his legal and technical knowledge to effectively negotiate on behalf of his clients, protecting their interests at every juncture, always ensuring that they are successful whether they're buying, selling, investing, or flipping.

If you're ready to buy or sell, make sure to reach out to Omid to at least get his input, because if you do, you will quickly understand why his (and his firm's) motto is "Expect more from your Realtor!"