Guy was great!
Extremely professional, nice and courteous.
Buying a house is very stressful and confusing, there are many questions to ask, many properties to see and many predators trying to get you with all kind of cons.
Guy was with me from day one at almost any hour of the day, any question or concern was taken care of by him, he showed we the value of buying a house beyond just simply purchasing a place to live. We searched for a place that has high potential to grow on the upcoming years.
Right now Guy is helping me with commercial office space for my business and his service is even better !

Thank you Guy!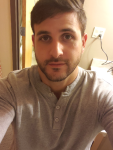 yehuda nuriel
Buyer
Feb 10, 2020
---