I had the pleasure of working with Sara last year when I decided to go from renting to becoming a first time home owner. As a first time home buyer, there were so many questions I had, Sara was amazing at making me understand the process, she had the patience to explain to me what is going on, what will be next. Sara and Steven made the process easy and less stressful, even though we were in the middle of the holidays.

To be completely honest, Sara knew and understood exactly what I was looking for. Sara sent me a few places to look at, but I fell in love with our first place and only place we checked out. It felt like home, and I knew right away I wanted it.

Sara's negotiating skills helped me walk away with a steal! I was kind of blown away by the great deal I got on this place, new appliances with a new home warranty. She definitely had my interest in mind.

Thank you for being a part of such a huge memorable moment for me. I will forever be grateful for this memory of my first home for my girls and I. It is because of you, we found a place I can call home. Every day when I get home, I feel so blessed and thankful I took the leap and became a first time home owner.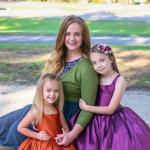 Melissa Metzler
Dec 4, 2020
---