We are so fortunate to have Renee Marquiss from Next Home under the Sun as our realtor in finding us a beautiful property that met all our expectations! Buying a home out of state is an intimidating process but Renee made our experience go so smoothly! She kept us updated daily on new listings that matched our criteria. We instantly connected and felt at ease throughout our search. Renee was very knowledgeable and familiar with all the communities and we are so excited we made the right decision in finding the perfect home in Venice! Since we were not able to see the homes in person, Renee presented us with very informative videos as she "walked through" the homes we were interested in. This truly helped us in making our final decision on The One!
Renee went above and beyond, and our experience was so wonderful working with her from the very beginning! She was very responsive in answering all our questions. Renee kept us updated on the Timeline spreadsheet, so we were in the loop on what to expect next as we made our way to our close!
Renee was also very helpful with finding us a highly qualify home inspector, carpet cleaner company, house cleaning service and a landscaping company. I would highly recommend Renee to all our friends.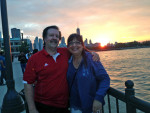 George and Corvette
Homeowner
Apr 10, 2020
---