Michael King and his team are phenomenal! My family and I had lost hope buying a house. We've been through a lot trying to get a house. Michael was the 4th loan officer I have talked to and the previous 3 all were not able to help me, the process was so long and painful.
When my realtor and I met with Michael the first time, I had no more hopes of getting qualified to buy a house. Then he told me that he has been doing this for a while and he knows exactly what to do. Michael told me and my husband that he can get us a house in 3 weeks. Hearing this, after what we've been through sounds like a joke.
We've got nothing to loose, we looked for a house, found one and offered. Micheal and his team got us in a house we can call home in 18 days!!!! He really knew what he was doing!!!!
Michael King and his team are amazing!!!
I will recommend them to all of my friends and families.
I was so happy we decided to meet with him that day when we we're loosing hope.
Thanks so much Michael!!!!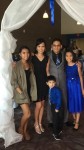 Ghaylee Mallari
Registered Nurse
Oct 11, 2016
---