When i started the process of purchasing a home i was scared.. I never thought i would be able to qualify much less be able to actually buy a home as a single mom.
However with Cindy Hallas help i was not only able to purchase a home but the home of my dreams and in record time! It has been an rewarding experience working with Cindy and her team! She really went out of her way to answer all my annoying questions and to make sure i was taken care of.
I would recommend Cindy to any and all of my friends and family.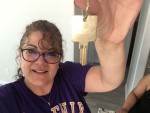 Tina jones
Office manager
Jul 3, 2017
---