I want to start off by saying how grateful my husband and I are of Karen. Not only did owning our own home become a reality, we also learned so much throughout the process.

My husband and I put off attempting to buy a home due to fear of being rejected. I was sure due to a messy divorce several years ago and what it did to my credit, it would not be something that we would accomplish for many years. For my husband, he had some debt from school loans. But, we thought we would give it a shot. At least this would give us an idea of when we could accomplish this goal. In our minds, it would be 20 years down the road. When we met Karen, I instantly felt a sense of warmth. She is very kind and has a positive attitude that is almost infectious (I walked in very negative).

When we started the process, Karen did not once talk to us as if we didn't matter, or make us feel ashamed about our past situations. Let's be real, there are folks out there that would see our situation on paper and not give us the time of day. I have actually experienced this many times in my life. Although it did take some work, she was extremely patient with us. I got overwhelmed, anxious, but every time I started to feel like giving up, there would be Karen, sending us an email, or making a phone call. I can tell you that it is ONLY because of Karen that we did not give up, and ONLY because of Karen (and her great team) that we now own a beautiful home, a home that we have dreamed of for most of our lives.

I have never experienced working with a professional like Karen. She took us under her wing, and honestly, made us feel so unique and special, as if we were the only ones that mattered in those moments. I know this is Karen's job, however, it at not one time felt like she was doing this because she had to. Karen will always hold a special place in our hearts, and we know without a doubt, it is her we will go to for any future needs. I'm willing to bet, that if anything comes up such as better interest rates, Karen will contact us before we contact her, not because she has to, but because she wants to.

If you are someone that doesn't think owning a home for you is a reality, I encourage you to talk to Karen. If it can happen, she is the one that will make it happen. If you need your hand held through the process, she will hold your hand.

Karen Jones, we are so thankful you came into our lives, and we are forever in your debt!!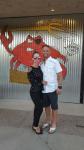 Kelly Gunter
Underwriting Trainer
Jul 28, 2017
---