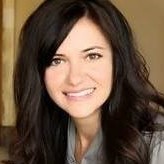 Georgeta Chelmagan
Loan Officer
AmeriFirst Financial, Inc.
Mortgage Loan Originator
I began my career in the mortgage industry in 2007. I have had the pleasure of helping hundreds of customers obtain financing for their new home purchase and refinancing of their existing mortgage. I pride my business based on past clientele and referrals from friends and family members. Having their trust to refer their family and friends is the best compliment I can receive!

I specialize in optimizing credit, to enable the client to obtain the lowest interest rate possible and/or lower monthly mortgage insurance. I enjoy working with first-time home buyers and educating them throughout the process. What sets me apart is my ability to understand that every borrower has different needs and structure their financing based on their needs, whether it be conventional loan product, conforming, jumbo, new construction, or government (FHA/VA/USDA) loan programs. We offer a variety of down payment assistance programs, for those that want to be a home owner, but do not have the means for the down payment. I also understand that being transparent is vital to a smooth transaction. I will tell my clients what they need, why they need it, to help them understand the mortgage process, while giving them realistic expectations. I believe taking the time to listen and understand the client is the key to structuring the right loan for their specific situation and needs.

My years of experience allows me to oversee all steps involved on the loan transaction. I am dedicated to take on such an important role in assisting all my clients. I am always learning to "think outside the box," challenge myself in improving my business, and always open to personal and professional growth. I truly honor those who trust me to create and manage their mortgage over time. Whether purchasing or refinancing a home, I will work hard to ensure that you get the best loan program, at the best rate, and the service that allows you to enjoy the experience of home ownership!