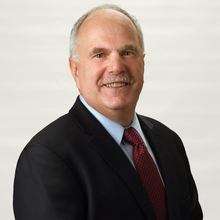 Robert Auerbach
Vice President-Ticor Title Southern Oregon
Ticor Title Southern Oregon
Robert Auerbach is Vice President/ County Manager for Ticor Title Company-Southern Oregon which includes Ashland Medford, Grants Pass and Roseburg, Oregon. Robert brings a wealth of knowledge and experience built upon his 25+ years of experience in the Title & Escrow industry.

Since 2001, Robert has been a member of the Ticor Title family of companies and remains committed to building a work environment based on collaborative effort, mutual respect and growth for its employees. Robert has been committed to leveraging our industry leading business solutions to help our customers grow their business and believes that giving back to our community is an integral part of being a good citizen.

Robert and his wife Esther have fulfilled a 20 year dream of living in Southern Oregon and now spend free time hiking the hills above Ashland with their dog Baily, enjoying theater and music throughout the Rogue Valley and ruining a good walk on the golf course. They are optimistic that someday their family, including 5 grandchildren, will be reunited in Southern Oregon.