We contacted Dawn McLarry for the first time during the summer of 2018. We were moving to Tyler Texas by the end of the year and needed a realtor to help us start the search for a new home.
Her kind and gentle manner made a first impression that confirmed to us she was the right person to work with.
She found the perfect rental home for our family, which gave us time to get to know the city and better select the most convenient area to purchase a home according to our needs.
She's very professional with great attitude and a solid work ethic. Always being proficient by providing house details in a timely manner. Punctual, diligent and dedicated to the task with enthusiasm and confidence. Excellent negotiator for Seller and Buyer terms.
She understood our needs as a family of four and directed and encouraged us throughout the entire house searching process. We recently bought our home, and we are so thankful for her input and dedication as we navigated the past several months looking for the right place for us.
We highly recommend her as a Real Estate Agent.

Sincerely
Gary and Claudia Kuykendall.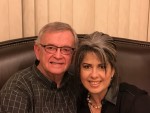 Gary and Claudia Kuykendall
Mar 23, 2020
---