In 2013, my husband and I decided we were ready to purchase. We made the mistake of hiring a Realtor who lacked experience and reputation and ended up wasting an entire year. So last year when we were ready to get back out there, my husband got in touch with his old school friend, Anthony Pigati.

All we can say is "wow"! Anthony listened to our needs and everything else we wanted in a home. He made the experience less stressful and extremely exciting. With his expertise in the area and the amount of personal/professional contacts he knew in the area, we were able to view any home we were interested in right away. This gave us the opportunity to make an offer on our home BEFORE the open house was even scheduled.

Thank you so much Anthony for going above and beyond! You helped make our dream come true and got us into the home we absolutely love.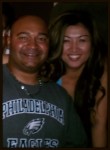 Lala McDonald
Feb 17, 2015
---