As a Real Estate Professional, Chuck, with his partner, Pat, served us well.

In the searching phase he was helpful, tracking down all those properties which interested us, and making sure that we saw them. He was always early at the site, and patient through the visit. He followed up on questions of detail.

In the closing phase he helpful in keeping us on schedule for things that needed to be done. And he showed a genuine interest in a good outcome for us.

He is a charming, thoughtful person and one whom I would recommend.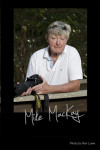 Mike MacKay
Principal at Mike MacKay Photography
Aug 10, 2018
---