We initially hired Paul to find us an alternate home site other than our property in Long
Beach Ms While we drove by several we never found the right one. We then asked Paul to sell our dream property in Long Beach. It didn't take long to sell at a fair price to a really nice couple who wanted the view
We lived so much. It was all so seamless
Use Paul. You'll be happy!!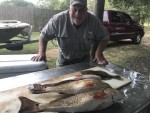 Eugene Banta
Retired
Jul 23, 2020
---