I had lost my husband of 49 years in March and meeting Carrie was the right person for me.
The property was in Blanchard, Idaho and on 40 acres and not too many people want to live that far out of town. Carrie found a perfect buyer and I agreed to wait until the buyers could sell their home. Even though it took them some time for the buyers to sell, Carrie kept in contact with me at every possible event! Carrie worked hard for me she even put my buyers home on her website to help the buyers sell their home as well.
She would text me and just see how I was doing and if I needed any thing, She's an amazing lady that shows she is caring and kind.
I finally sold the house 1/14/2020 and every thing went as she told me it would be and I am very thankful for having Carrie Sutton on my side during this time I will be grateful to Carrie for ever.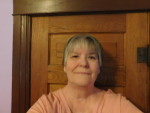 Pamela Sue Blish
Widowed
Jan 15, 2020
---