I recommend Carrie as your personal real estate agent. We had the best time finding our forever home. Carrie answered her phone herself every time we called. She went above and beyond any realtor I have ever worked with. She listened to all of our concerns and always helped us in resolving problems.
Over this period of time we have become great friends. She is a remarkable real estate agent that really cares about your wants and needs. I highly recommend Carrie to help you find your dream home.
Thank you Carrie for helping us find our forever home.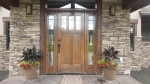 Lynda Thurman
Retired and ready to settle down.
May 30, 2020
---