I cannot recommend Charity Jones enough!! We relied on Charity to take us through every step of selling a home and buying a new one and we were not disappointed. Charity knew exactly how to price, prepare and market the house we were selling and got to know us enough to find us exactly the house we wanted. The home that was meant for us. Charity calmed us during the stressful times and celebrated with us during the joyous times.

Her real estate knowledge and professionalism are beyond reproach. But above that, her dedication to her clients...to their financial and emotional well being was appreciated by us immensely. She fought for us on either end of our negotiations.

Any person looking to sell or buy a home, or both, should look no further than Charity Jones. She is phenomenal.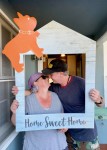 Sarah Pryzibilla
Happy Client!
Nov 26, 2019
---