Where do I start?!? Truly, this house hunting/home owning journey was definitely the perfect storm. I went into this process with little to no knowledge at all. Charity guided me through the whole thing. Answered all of my emails/texts (I ask way too many questions) and she treated each moment of this process with care and expertise. I have many realtor friends that I could have gone to for this journey but Charity just does her job amazingly and then some. My journey to my wonderful home was long but Charity was patient and always keep me in the loop with homes that were my style. She does an amazing job a pin pointing what you're looking for and starts her investigative role in searching for those home. Seriously, if there's an FBI for realtors, hire Charity!

She was/is always available to check in about anything. Still to this day, week 2 as a home owner, she is answering all of my questions and giving me all of the details I need to make decision with confidence.

I'm truly going to miss my interactions with Charity because as professional as she was/is, she is also incredibly personable.

I'm so thankful that our stars aligned. She is a realtor guru and genius!! She did way more than any realtor would have done. I would put money on that!!!

If you're looking into buying or selling a home. Trust me, pick up your phone and call Charity. Just, trust me.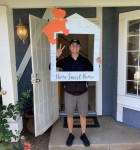 Juan Cornejo Jr.
First-Time Home Buyer
Jul 1, 2020
---