She is a very hard working realtor. She answers every question and help you going above and beyond while selling or purchasing your homes.
She is on time, has patience, works like she is a part of your family member.
Even the house is 1 hr away and you want to tour on it, she is a Available for you every day.
Our family has a wonderful experience working with her.
I could write pages describing her, but I want you to work with her and see, and continue writing about her.
Thank you.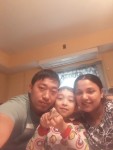 Suk Goley
Aug 14, 2020
---