My wife and I could not recommend Jenn highly enough! I work directly with clients every day and I know what exceptional customer service looks like and Jenn is the standard. Not only was she incredibly professional, friendly and easy to approach with more than one naive question, but she also became our advisor and negotiator. She knew the area we were moving to and could make recommendations on everything from who to contact for the home inspection, septic issues, electrical work and even where to go for lunch. All we had to do was let her work for us.

Exceptional customer service and knowledgeable recommendations are great, but they're only one part of what Jenn did (and continued to do after we moved into our new home). She showed us our home the VERY FIRST day it was listed and by 7pm that night our offer was accepted. She was proactive in contacting us and keeping us on the ball with the process and if an issue came up she had solutions for us so we didn't have to wonder "what do we do now".

The bottom line is that we wouldn't be as happy with our decision to purchase if we ended up with a different agent. If you have the opportunity to have Jenn work for you and you pass it up, you have just done yourself a massive disservice.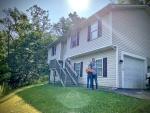 Conrad Coe
Creative Director
Jul 10, 2020
---