Lisa and Leon...hmmm. Full disclosure my Wifes a realtor so I'd be toast if I bought from anyone else. That has never stopped Leon and Lisa from inviting me to events or thinking of me with random acts of kindness.
How kind you ask??? Who else have you not spoken to in a few months and gives you two tickets to see the Eagles? Leon and Lisa!!! So if kindness and sincerity are important to you, you need a damn fine realtor or a bucket list set of concert tickets...
But dont ask for U2 tickets they are holding them for me.....
.....Sarge.....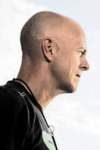 Patrick Avon
Sarge
Nov 29, 2020
---